Why is summer a favorite season for so many?  We think it's because after months of being inside and not socializing as much, that summer brings on parties, cookouts, dinner parties, clambakes, and lazy beach days.  Actually, just about any old excuse to get together is good enough for us!
Summertime bombards us with so many commitments;  weddings, graduations, and other celebrations.  And some of our favorite invites are from our dear friends filling our mailboxes and inboxes with invites for a girls night, or a small group of couples invite for a fun game night!   Now that the invites have arrived, it's time to figure out what to wear (and you know where to go for help with that!!), and what kind of hostess gift to bring!  We bring hostess gifts to show our appreciation for the invitation and just to be thoughtful so take into consideration what she likes.
So how do you figure out what to bring?  First thing is to think about the type of person you are buying for.  Is she an on the go mom, always needing to be prepared with a tissue for little tears or a Band Aid for a little scrape?  Or perhaps she always just likes to be prepared — our Emergency Kit is perfect for her!   Maybe she loves her white wine?  Is she a fashionista, always dressed up and keeping up with the latest trends?  Whatever her personality or style, we've got 5 Great Hostess Gifts To Give This Summer!
WHITE WINE LOVER
If she loves her wine, she will love this Chill Cooling Pour Spout that keeps white wine cool without watering it down!  Add a bottle of good wine and you will be her favorite guest!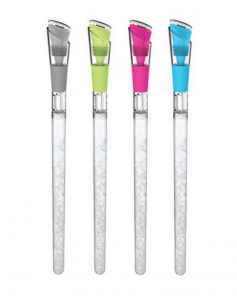 THE CITY COMMUTER
This fabulous umbrella (Vinrella) is like no other!  It has a no drip design that locks away the wet to protect her purse or briefcase.  Shaped like a bottle of wine, it's the perfect hostess gift for the non-drinker!
THE FASHIONISTA
Your fashionista girlfriend will love this dainty crystal choker (comes in gold or silver metal).  It's perfect for date night or even to wear during the daytime with a simple white T and jeans!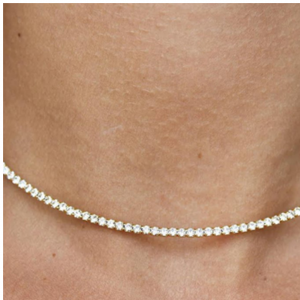 THE MOM (or for any gal who likes to always be prepared!)

This emergency kit may say it's for the Mother of the Bride but it's great for any gal who wants to be prepared for any fashion emergency (and more)!
THE ROMANTIC
Have a friend who loves the scent and ambiance that a simple candle brings?  Let's face it, candles are mood and atmosphere enhancers!  Add a bouquet of fresh cut flowers from your garden and it's a beautiful hostess gift!  Once the  candle is burnt down she can use it as a tiny vase for baby roses and always think of you!
Whatever you choose to bring with you as a thank you hostess gift, make sure you've put thought into it and it's right for that person, and always give it with a lovely hand written card and lots of love!
xoxo The Gals at Helen Ainson
Save
Save
Save
Save
Save
Save
Save
Save
Save
Save
Save
Save
Save
Save
Save
Save