Ahh, it has finally arrived!  Summer!  All year we wait patiently till we can open the windows for a breath of fresh summer-filled air, as the birds sing their beautiful melodies, dreams of white sand beaches, long summer nights, family vacations, cookouts and more come rushing in to excite us!  We don't know about you but there is nothing more exciting than planning a getaway!  Once you've taken the time to find the perfect spot to escape to and set the date, it's time to get thinking about what to pack!  This can seem a daunting task to some, but actually if you do some pre-planning, and yes, list making, you too can vacation in style this summer!
No more ruffling through the suitcase to find one single white tank top (and oops, that's the one you wore on the plane!)  Sure would be nice to have another one with you right?  Okay so let's get down to it.
Pack Multiple Basics
Why pack one basic when you know you'll definitely need more for the vacation?  Nobody wants to do laundry while away so pack a few of our faves:
Our Judy P Jersey Tank which is available in so many gorgeous colors (you'll have a hard time choosing just one, so don't!)  These little beauties come in black, blueglow, bougainvillea, bright royal, crystal rose, driftwood, mardigras, navy, pearl, red, seafood, silver pit and white. Be sure to bring black and white which are total staples for layering and go with so much, but then choose some pretty colors that can go with that skirt or pair of palazzo pants.  Available in sizes S, M, L and XL, these jersey tanks will be a welcome addition to your wardrobe!
CLICK HERE FOR COLOR OPTIONS AND TO BUY
Wear Your Basic Judy P Tank With….

With so many color options with your Jersey Judy P, you can pack some fabulous bottoms and accessories to WOW!
The addition to make this ensemble perfection?  Our LUSCIOUS CASHMERE RUFFLE WRAP which also happens to come in an array of gorgeous colors.  Perfect for a chilly evening to warm your suntanned shoulders and arms, and might we also add that you will love this in a carry on when flying, to cozy up on that air conditioned plane!  BUY IT HERE.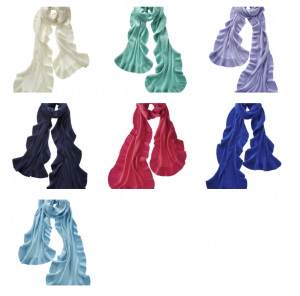 Accessories Are A Must
True style cannot be achieved without a few accessories, that doesn't just go for every day, but for vacation too!
Slip on a Lauren Hampton Handmade Belt (made in the USA by hand, and one of a kind!) and you easily transform that plain black ensemble to something special!
Stylish Essentials
Of course our favorite part of any summer getaway is spending lots of time at the beach!  It may seem tough to pull off looking like a beach babe in hot, humid weather, but here are some key things to remember and to bring! Always pack your sunscreen and a lip balm with a high SPF.  Our essential little Starfish Cosmetics Bag is perfect for makeup or for carrying sunscreen and other little essentials (keys!?).  Looking great on the beach means also packing a small makeup mirror, a bit of waterproof mascara (or get some fabulous lash extensions!), and some attitude!  Knowing you look great and feeling confident are your best kept secrets to feeling stylish!

A beach babe never forgets her stylish beach hat to protect her fabulous hair color and keep hair up and off the neck to keep cool, and to also show off a pair of shimmering faux diamond studs (but of course!)  Our Beach Babe Hat is on sale for $30 (regular $40).
A stylish tote is a must for any getaway!  This Easy Breezy Tote makes a nice carry-on or beach tote for towels, lotions, fashion magazines (of course!) and other beach must-haves.
Save
Save