If you haven't yet heard, there is a beautiful American actress, whose fairy-tale marriage to one of the most eligible bachelors in the world is going to be taking place this coming weekend.  It's a love story of unprecedented proportion, where a little girl born to a Caucasian father, and an African-American mother is about to make her mark on history by breaking the rules of British tradition.  Just the mere thought that an actress from the United States, who is bi-racial, would be accepted by the royals is so very exciting,  also add to the equation that the Queen is allowing the monarchy to move into the 21st century, by accepting that her grandson has chosen to marry a divorced woman!  This has never happened before, as Edward VIII, thirty eight King of England, abdicated his throne for the divorced Mrs. Wallis Simpson!  We all love any story where there is a prince, a princess, and all the royal pomp and circumstance that goes along with it.  It allows us as women to become "part" of her day, and watch,  even with a bit of envy,  as she marries her prince in a gown we can only dream about!  Come with us as we take a little journey through all the fun facts about the upcoming nuptials, as well as all the dresses we are loving for the season's biggest events, including the Royal Wedding!
Our "official" invite!  (okay, we can dream can't we?)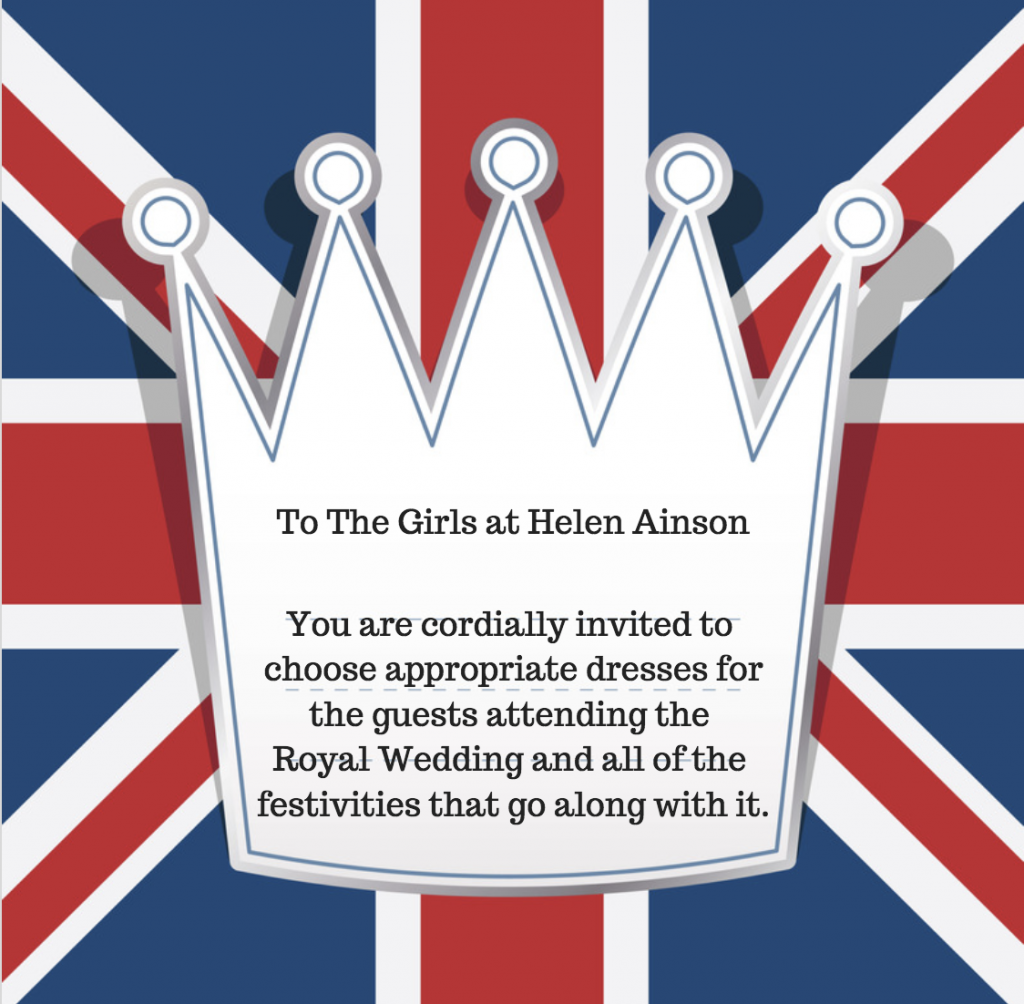 First, we will start with some fun facts we dug up about the wedding of the year!  There are many, including the fact that $500,000 will be spent on a tent just to keep the paparazzi away from the guests!  Did you also know that the cocktail they will serve is Champagne with Elderflower Liqueur?  Meghan loves Elderflower so much it will be in the lemon wedding cake which will cost a mere $71,000.  We're grabbing a bottle or two of our favorite, Vive Clicquot Champagne and St. Germaine (Elderflower) and toasting the couple!   Here are some more little facts:
Fun Facts About the Royal Wedding:
Meghan's dress is estimated to cost about $430,000  – WOW!

Total cost of the wedding – $45 million (a good number to show dad when he has to write a check for your wedding!)
The ceremony will be televised here at 7 am.  We are setting our alarms!
Meghan and Harry will not kiss after pronounced husband and wife, as the Church of England actually forbids the act in church.  They will share a kiss, as all the other royals have, on the balcony outside of Buckingham Palace
Royal tradition for wedding gowns is that they must be modest, including long sleeves, not too much cleavage, and lace for the wedding gown itself seems to be a royal tradition as well.  
Meghan's favorite flower are peonies, and most are betting they will be in her bouquet, along with a sprig of myrtle from Queen Victoria's original garden, also a tradition.  Cost for flowers:  $150,000 for all the flowers for the wedding.  
Why We Are Excited About the Wedding:
Now forgive us for this little brag, but did you know we have been voted Best of the Gold Coast year after year for cocktail attire and evening wear?  We are proud of that fact, as we constantly strive to be the "go-to" place for the most gorgeous attire for all formal occasions in all of the tri-state area.  We outfit mother of the brides, mother of the grooms & clients attending weddings on a daily basis, so when a royal wedding is anticipated, we get excited to tune in and check out what everyone wears on the big day! Meghan's wedding dress, what the Queen will wear, and what all of our favorite stars who attend will be wearing (Victoria Beckham is one we want to watch), is so exciting!  Trends in wedding gowns, cocktail dresses, etc will all be derived from this big day, and you can bet we will be out there shopping all of them as soon as they arrive in the showrooms!
This is the season for so many events, and many of those require a cocktail dress, an evening gown, pretty pumps or sandals, and all the accessories to go with them.  Outfitting our clients, and getting all the details about the event they are attending, gets us excited too!  We love when a client's eyes light up, then we know we've done our job!
We have so many gorgeous dresses for these occasions that it was hard to choose just a few to share with you!  However, you can always shop for more online (click here) where we have a bigger assortment than shown here, or if perhaps you live close by, you can stop in and one of our talented Fashion Stylists/Consultants can assist you!
Happy viewing this weekend, where we all get to feel a little bit what it must be like to be a Royal!  Shop with us, where you are always treated like a Princess!
xoxo  Love & Fashion, the Girls at Helen Ainson